Matt was still on his long weekend trip to Northern Arizona and
Sharyn
and I decided we would explore Patagonia.
"The first European explorers of Patagonia (Southern Argentina & Chile ) observed that the indigenous people in the region were taller than the average Europeans of the time, prompting some of them to believe that

Patagonians

were giants."
Wait! Just kidding we explored Patagonia, Arizona.
On our way there on highway 82 we stopped to get a picture of some
Pronghorns grazing a hill near
Sonoita
.
Sharyn
has a great eye for good shots and loves seeing the Pronghorns on our drives in the west.
Pronghorns were brought to scientific notice by the Lewis and Clark Expedition, which found them in what is now South Dakota, USA. The range extends from southern Saskatchewan and Alberta in Canada south through the United States (southwestern Minnesota and central Texas west to northeastern California), to Sonora and San Luis

Potosí

in northern Mexico, with a small

disjunct

population in northern

Baja

California

Sur

. The subspecies known as the

Sonoran

Pronghorn (

Antilocapra

americana

sonoriensis

) occurs in Arizona and Mexico.
Sonoita
was a good place to stop and enjoy the sun and I stopped and decided to take a few pictures of the
Kokopeli
...
... the sign for the Italian
Ristorante
...
... and a mural on the Grocery store but (now you won't believe this) on closer inspection after downloading the picture tonight I found this...
... it is a mural of San
Onofre
surf beach, one of the favorite surf spots my sons enjoyed next to the San
Onofre
Nuclear Power plant near San Clemente. When we lived in San Diego they often went there - Enjoy boys.
We did finally arrive in Patagonia only to find another familiar sign for the Wagon Wheel, Jill's favorite breakfast place in Escondido - but Jill this Wagon Wheel is a saloon.
I really liked this cool little town that chose to not become a ghost town but thrives today as a tourist destination...
... with a historic past and a bright future.
I took this picture of
Sharyn
putting something in Matt's
Ruggedized
Mini-
Musemobile
...
...then got this picture of the historic train station...
... with what I thought was a fireman's boot memorial...
... but after reading the marker decided it was a miner's boot.
"Sylvester

Mowry

became interested in mining and prospecting and in 1860 he purchased the Patagonia silver mine just southeast of the Santa Rita Mountains in southern Arizona. After renaming it the

Mowry

Silver Mine."
Across the street (Highway 82) was the Patagonia Market and a pizza place called the "Velvet Elvis". The "Velvet Elvis" reminded me that we were not far from
Bisbee
, Arizona where the words unique, creative and odd ball were first used.
This gas station verified those terms. I am not sure if it isn't a throwback to the 60's with it's slogan on the wall in bright gold letters and the picture of a pig.
Patagonia Creative Arts is a non-profit community Arts Center and must be a little like Maude
Kerns
Art Center in Eugene.
I looked in the windows and saw some interesting art ...
... and at the tiled window sill ...
... and this
muraled
wall ...
... and this tiled outdoor rest area with a reproduction of Picasso's Dora
Maar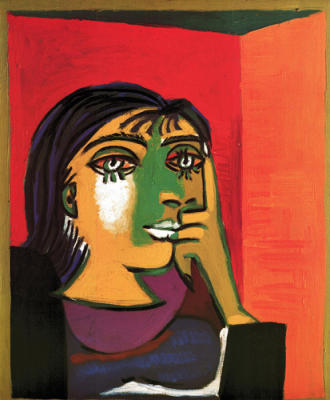 There was another tilled mural along the sidewalk walking west...
... followed by another mural behind the Dora
Maar
mural.
I next came to a great gallery called "Camel Parts" and the metal sculpture of Our Lady of Guadeloupe outside pulled me inside where I met the artist ...
... Eva Wright and her newest creation I thought of as "The Blue Lady." I would suggest a visit to this shop or for more information on her art or to purchase "The Blue Lady" and find out the real title of the work write Eva at camelparts@yahoo.com.
I just love lizards.
We had a really nice lunch and Mercedes Mexican Food and had a wonderful meal. Her Chili
Rellanos
are superb.
Going back south across highway 82 I saw this place for sale...
... it had an interesting sculpture outside...
... a mission looking door so I thought it was a mission...
... but I was wrong it had been the "Le Mission
de
San Miguel" nightclub and cultural center.
It was a beautiful facility, however, and if I were wealthy I'd love to make it a gallery for shows and community cultural activities.
It is such a waste to see a beautiful facility go to waste.
Outside was also this what I think is a Eucalyptus tree with very interesting markings...
... and next door on a stucco wall a street map of Patagonia...
... and a nice row of shops and galleries...
... and even a place of artsy shots of shadow and light...
... overall I think the old west is still the old west...
... with doors that are very Georgia O'Keefe in feel and impression.
I even took a second picture in black and white just for the fun of it.
Not all of Patagonia is fresh and clean but it is all interesting and special from this old truck on stands...
... to the old adobe bricks of this structure...
and even the pristine Public Library has a warmth of character.
Humming bird feeder Report - Day 5 - One humming bird flew up just as I walked by but didn't drink...
Quote of the Day ~
"In five years a great State may be built upon this remote frontier, and a population gathered, such as will, when we make further acquisition of territory, spread at once over it, diffusing national sentiment and extending the area of American principles." ~ Sylvester Mowry